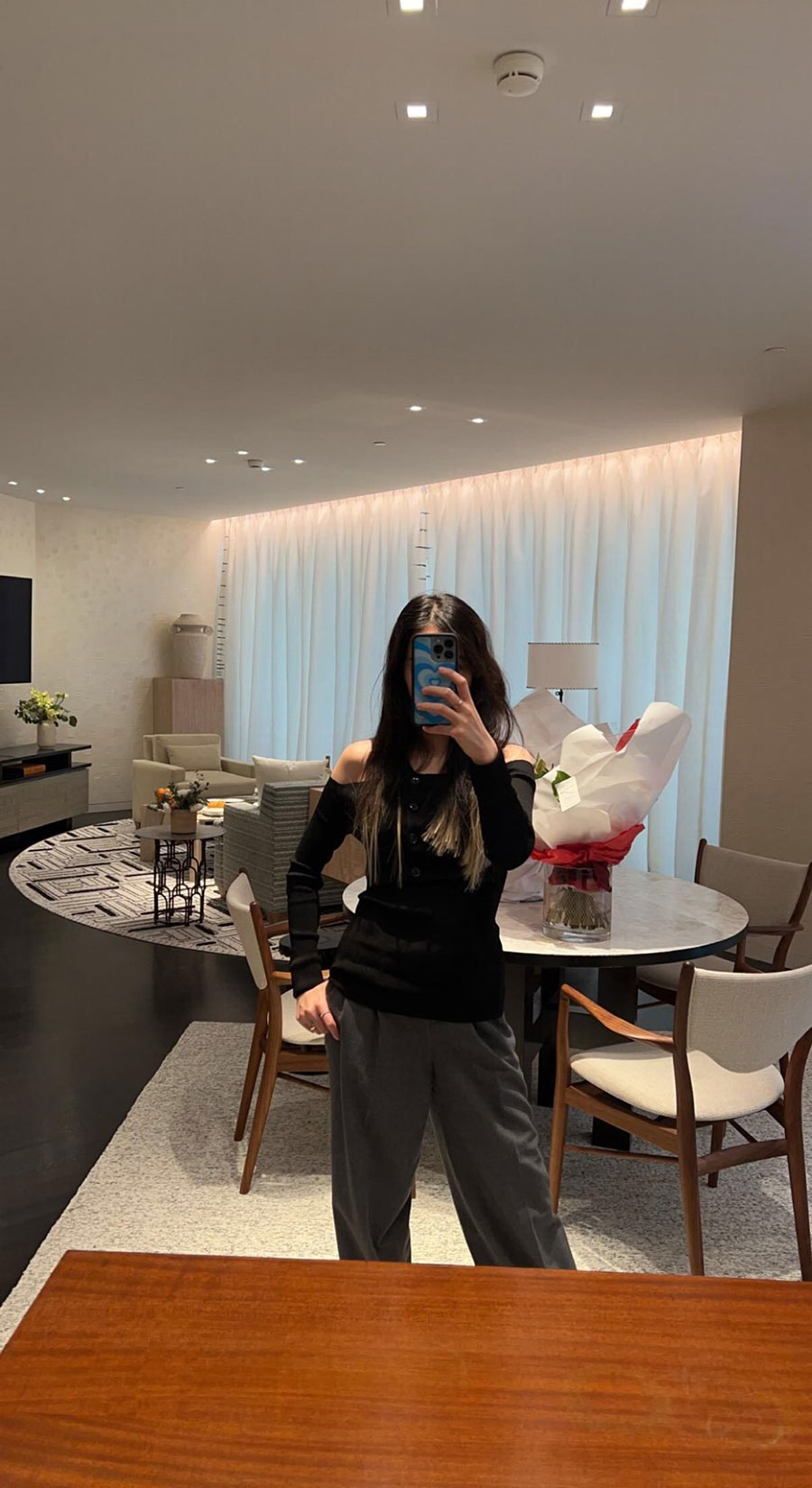 JISOO on Weverse Membership
🐰 The picture I found while thinking of the hairstyle that I miss. Which hairstyle was the best for BLINKs?? Today is gloomy but it's nice to go outside since it's not hot or cold. ☁️ Everyone eat well and fighting!! I miss you and I love you. 🤍
👤 Hi.
↪️🐰 Hihi 🤍
👤 Jisoo-ya!?
↪️🐰 Yes?! It's me! Keke.
👤 Do you watch 2521?
↪️🐰 I should watch it since Jiyeon appears there hehehe.
👤 Was the Dior show fun?
↪️🐰 Amazing show!! 🤍
👤 You came right when I was feeling sad.
↪️🐰 It's because of the weather! When the weather gets better, you'll feel better.
👤 Tell me Jisoo's TMI of today.
↪️🐰 I accidentally kicked the door with my toenail and it hurts…
👤 It will snow tomorrow be prepared to make snow ducks!
↪️🐰 ..? Really?? It's not true right??
👤 I liked all of your hairstyles!
↪️🐰 That's correct!! 😘
👤 I bumped my finger in the door today… the telepathy worked.
↪️🐰 Let's not do telepathy with things like these ㅜㅜ hahaha.
👤 What was your favorite ride at Disneyland? 🎡🏰
↪️🐰 I only rode one but I don't know the name, I rode the one with a long line, thinking it would be fun.
👤 The timing was great, you came when I was taking a break. 🍒
↪️🐰 Chichi who came during break time. 😎
👤 Jennie's "SOLO" music video surpassed 800 million views!
↪️🐰 Shining Jendeukie. 🥰
👤 Jisoo I got COVID. ㅠㅠ ㅠㅠ
↪️🐰 OMG…… Get well soon!! 🥲🥲
👤 My profile pic is cute isn't it? It's my dog, Kim Bbobbi!! Let's be friend with Dalgom.
↪️🐰 OMG so cute hahahaha. 🐶
👤 Do you like it when others take pictures of you or selfies?? 📸
↪️🐰 When others take my photo..
👤 Did you buy Pokémon bread too??
↪️🐰 Nope! Hahaha maybe when I was in high school..?
👤 Jisoo ㅠ I hurt my hand yesterday so I'm typing with one hand. ㅠㅠ 🥺
↪️🐰 You'll be the master of one hand typing!!!! Don't be hurting!!!
👤 I want to see blue hair Chu. 🛐
↪️🐰: IKR but my hair can't handle it..! Hahahahahaa huhu..
👤 Pics of Dalgom please… Chu pics too…
↪️🐰 I have a lot of videos of Dalgom hehe.
👤 Did you have Iced-americano today?
↪️🐰 I'm drinking it right now! Haha.
👤 I was doing Weverse without my professor knowing!
↪️🐰 Professor, even if they get caught, please make this an exception.
🐰 I have to go quickly today because I came only for a short time! But next time let's talk for a long long time. 🥺🤍 Guys don't be sad and cheer up!! Let's meet soon!! Before it gets too hot hehe I love you. 🤍💟🤍💟🤍